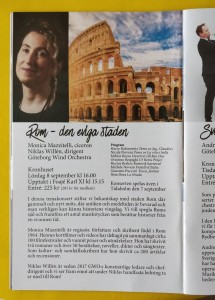 I had the great pleasure and honor to be invited to narrate about my home town Rome by one of the most important musical institutions of the city of Gothenburg, the Göteborg Wind Orchestra, located in the oldest building in town – the Kronhuset.
Directed by Maestro Niklas Wallén, I will have the opportunity of narrating about the Eternal City from a sightly more subtile and unusual perspective.  I will use the four elements of water, earth, air and fire, that give an emotional experience even to the occasional tourist.
Double concert tomorrow in the town of Tidaholm, and grand concert on Saturday, 4 pm at the Kronhuset!